A little about us
We are independent remedial consultants. That is, we are a consultancy which prescribes 'remedies' for buildings, and we do so independently of any commercial agenda.
The consultancy was established in 2005 and benefits from over 50 years of experience in the remedial treatment sector.
We are corporate members of Ulster Architectural Heritage.
Consultants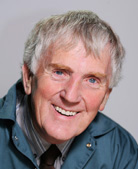 Ray McCleery CSRT
Ray commenced his career in the remedial treatment industry in 1974, when he joined Rentokil. In 1992 he and a colleague formed a new property care business, trading as McCleery Mathison Ltd. The company rapidly developed an enviable reputation, and became regarded by many professional clients as the foremost remedial treatment provider in Northern Ireland. As a result, the firm was entrusted with inspecting, repairing and treating countless buildings, including many important and historic structures.
In 1999, Ray qualified with the British Wood Preserving and Damp-proofing Association (BWPDA) as a Certificated Surveyor in Remedial Treatments. Following the retirement of his business partner in 2005, he then recognised that his experience, knowledge and skills could be used to meet the local need for an independent remedial consultant. Ray has since been commissioned to survey and report upon a multitude of diverse properties in the UK and Ireland.
Lawrence McCleery BA(Hons) MArch RIBA CSRT
Lawrence has had considerable, practical experience in the remedial treatment sector, since beginning as a technician in 1999. He has subsequently earned a Degree and Masters in Architecture at the University of Sheffield, and is now an RIBA Chartered Architect.
Lawrence qualified through the Property Care Association (PCA) in 2012, as a Certificated Surveyor in Remedial Treatments.